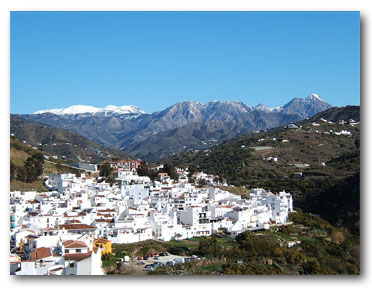 Just minutes from the coast and you can enjoy the peace of the Sierra de las Nieves National Park
Well marked pathways weave among cool pine trees with breathtaking views over the coast.
There are round trip walks starting from 3km.
You can walk to Istan, Ojen, Monril or to the top of Marbella's landmark mountain La Concha.
For details of walks from the Refugio near Ojen see the WALKS page in the apartment folder
CYCLISTS
There are road routes to mountain villages or off road mountain tracks .
Take a look at the variety in the immediate area
cycling in the Seirra de las Nieves
WALK OR CYCLE THE COASTAL PATH
The coastal towns of Marbella, Estapona and Mijas have been connected by 50k long path hugging the coastline of the Costa del Sol for both walkers and cyclists to enjoy.
Constructed mainly of wooden walkways or compacted sand, the walkway has had to overcome cliffs, the protected natural Las Adelfas sand dunes, river mouths as well as private homes and gardens.
You can walk / cycle from the East side of Puerto Banus to Marbella. The walk takes about 1hr 30mins.
if you feel energetic there is a range of exercise equipment at 3 locations along the route.
You will find plenty of cafes and restaurants.
There is a boat ferry service during the daytime operating from April until November
between Puerto Banus and Marbella.
You can also take the bus to central Marbella and walk back.
..